Marty's Hops & Vines grew from the owner's love of the British pub – a comfortable and relaxing place to enjoy friends and to refresh from a busy day. In a 1920s building brought back to life with love and character, you'll find comfortable seating and a charming antique bar to set the mood.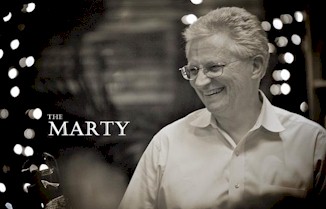 Come in to Marty's Hops & Vines to find the perfect fine wine or craft beer to complement a meal, or simply to savor all on its own.
With an extensive collection to choose from, you'll be sure to find something just right, whatever the occasion.
Need some glassware to go with that? We offer a selection of glassware as well as wine racks and related accessories to browse.
After browsing through the store, step over to the bar where you can take a comfortable seat and enjoy select wine and beers by the glass or indulge yourself with one of our delicious pizzas or focaccia sandwiches. There is something for everyone!
We sell gift cards in any denomination.
Come shop and share in a warm and relaxing atmosphere with friends.
Free parking in the merchant's parking lot behind the store.
Open: Tuesday, Wednesday, Thursday 11am-10pm (Kitchen 4:30 pm-9 pm), Friday and Saturday 11am-12am (Kitchen 4:30 pm to 11 pm)
Closed: Sunday & Monday
Daily Specials/Events
Tuesday: Happy Hour from 4:30-7:30 pm   50% off draft beer and house wine pours from our menu (premium wines are $3 off) $2 off seasonal cocktails, too! (Flights NOT included)
Wednesday: Taco Wednesdays! A different variety every week. $3 each while they last.  Beer Night from 6-9 pm – 2nd and 4th Wednesdays are Beer Tasting, $12 per person unless otherwise noted. All other Wednesdays are $4 Draft specials (schedule and price subject to change for special events)
Thursday: Cork Fee Free Day – Choose your favorite bottle of beer or wine to drink and pay just retail price with no cap/cork fee
Friday: Wine Tasting from 6-8pm – Visit our Wine page for more info. $12 per person plus cheese accompaniment. Save $5 off of your tasting when you purchase one or more bottles of wine from the tasting.
Saturday: Saturday Night Special for Two from 4:30-7:30 pm – Order a dinner salad, Panini sandwich or pizza and get 50% off a second one of lesser value
Live music every Friday and Saturday Night, check our Music page for more information!